Enlarging the Penis Using Allografts
US$4300-US$6700
MegaDerm Phalloplasty
MegaDerm is an acellular dermal matrix allograft sheet offered in Seoul, Korea by Dr Kim Jin Hong. In his opinion, it is as good or better than AlloDerm.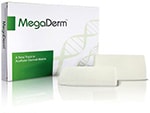 Patients getting this open surgery penile girth enlargement (US$4300 [40 x 70 x 4 mm]) or BOTH glans enhancement (US$2400) and allograft girth enhancement together (US$6700) are advised to stay in Seoul at least 5-6 days to get close and regular aftercare from Dr Kim.
Safety protocols are not negotiable.
Dr Kim says:
I recommend MegaFill penis enlargement by injection over MegaDerm penis enlargement by surgery.
Important Notes:

MegaDerm is not allowed to be applied to the proximal root of the penis for medical reasons which include possible rejection;
Standard procedure price is for one 40 x 70 x 4 mm allograft.
Single piece should give a satisfactory amount of increase for a penis not more than 11 cm (4.3 inches) erect.
For a penis 13 cm (5.1 inches) or longer, Dr Kim is likely to recommend buying an additional allograft for implantation. One sheet works well but two sheets would give greater gains and better value for money because of fixed costs.
Two-piece allograft girth enhancement costs: US$6000.
Single-piece 20% thicker (5 mm) allograft girth enhancement increases charge about 10%: US$4750.
Two-piece 20% thicker (5 mm) allograft girth enhancement: US$6600.
In addition to penis enlargement and other urological reconstructive surgery such as radial forearm phalloplasty donor site repair, MegaDerm can be used for abdominal wall repair, breast reconstruction after a mastectomy, burn treatment, repair of defective soft tissue or tissue contraction, nasal septal perforation, and more.
Although, the US FDA may not have approved AlloDerm for all of those uses, it is possible that surgeons have been using it in similar ways.
The FDA did not approve AlloDerm for penis enlargement but that didn't deter American surgeons.
L&C Bio, manufacturer of MegaDerm, directly states their products are specifically intended for phalloplasty.
L&C Bio claims a major positive benefit of MegaDerm is that it triggers no immune system rejection because all immunologic protein reaction has been removed.
AlloDerm is processed the same way so also avoids tissue rejection and graft failure.
Acellular dermal matrix allograft tissue is a donated organ.
The main difference between other organ donations is the significant amount of processing it goes through.
Normally, human organs are used "as is" which requires extensive donor and recipient matching to avoid rejection.
The processing also eliminates the need to speedily transplant the organ.
When L&C Bio talks about "existing products" or refers to a "competitor" when referring to allograft sheets, it probably means AlloDerm (a.k.a. AlloDerm Regenerative Human Tissue Matrix) and LifeCell Corporation, manufacturer of AlloDerm, which abandoned the Korean market after the launch of L&C Bio's thicker, better, cheaper local products.
When it talks about MegaDerm maintaining it's "full volume for a long period of time", that means thickness is less than permanent.
A patient might/probably/will experience some reduction in graft volume eventually.
That is also true for AlloDerm.
However, all human tissue, including your own, undergoes changes over time and a degrades. That's the reason the global plastic surgery industry is booming.
The term MEGA has been chosen to emphasize MegaDerm comes as thick as 5 mm, compared to the 3.3 mm maximum of AlloDerm.
L&C Bio have increased the grafting material more than 51% for their thickest size option.
Whether it is advisable to use the maximum thickness depends on the medical opinion of the surgeon after analyzing the details of each case.
The minimum size of MegaDerm is 3 mm compared to the 2.3 mm minimum thickness of AlloDerm.
Examples of allograft size options:
3 x 7 cm x 3.3 mm
4 x 7 cm x 3.3 mm
4 x 12 cm x 3.3 mm
Thickness and size of the graft are linked in the four standard product offerings but the surgeon can order custom specifications.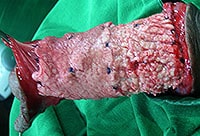 Although L&C Bio also touts the patent-pending process of "Multiple Slit" MegaDerm, Dr Kim has long added slits to AlloDerm manually to improve the invasion of blood vessels, nerves and fibroblasts, minimize pain and side effects during patient recovery, as well as improve graft flexibility and expandability.
L&C Bio has moved that process to the factory. Dr Kim continues to add his own "minicing".
The Korean company offers optional, patent-pending, highly precise removal of the "basement membrane" of the allograft which they believe further increases post-op invasion of blood vessels (revascularization), nerves & fibroblasts from surrounding native tissues (reepithelialization) while at the same time minimizing pain and side effects.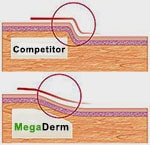 The aesthetics of MegaDerm may be superior to AlloDerm due to the clever beveled edges of the graft material.
The tissue from the beveling is processed into MegaFill.
Comparisons of mechanical and structural properties such as tensile strength, peak load and "experimental results" are probably of minor concern to most patients so not mentioned here.
Possible adverse effects (risks) of using any acellular dermal matrix allograft tissue or derivative products include:
failure of the graft
detachment of the graft
wound or systemic infection
an allergic or hypersensitive immune response
seroma
dehiscence
sloughing
disease transmission.
MegaDerm™ & MegaFill™ are registered names and/or trademarks of L&C Bio, Gyeonggi-Do, Korea.

All of the "Fair Use" graphics shown in this news article are derivatives of L&C Bio images.

AlloDerm™ & Cymetra™ are registered names and/or trademarks of LifeCell Corporation, NJ, USA.