Introduction to Tissue Engineering
Introduction
to Penile Augmentation Procedures
Penile Enhancements: Introduction and Overview
What is TRUE about penis enlargement?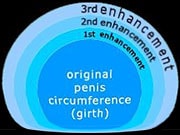 Normal men CAN greatly increase penis diameter, girth, circumference and volume — total size.
Length? Not much if the man is healthy and has good erectile function. And what can be done for healthy men is an illusion. The penile body is more exposed outside the body but is NOT truly any longer.
Size increase = girth increase = volume increase.
The two basic ways to increase girth are by surgery or by injection.
The best way to increase penis volume is by tissue engineering using a scaffold.
The main difference between scaffolds, also referred to as "filler", is whether the scaffold lasts for the entire six months it takes for the body to create new tissue to takeover the space held by the scaffold.
This durability is sometimes mistakenly put in terms of "permanent" or "temporary". Use of these terms shows lack of understanding of the tissue engineering process and the purpose of a scaffold. Size increase provided by the scaffold is always temporary. That is a good characteristic of a good material for this purpose.

NOTHING in life is "permanent". Nothing about your body will stay the same your entire life.
However, tissue engineering results in new tissue that is as permanent as any other tissue in the person's body.
In addition to differences in the method of introducing a scaffold into a penis, other key differences between girth enhancement procedures is the material used to make the scaffold and the format of the material.
The three basic types of good scaffolds (materials, filler) are:
autologous
homologous and
heterologous.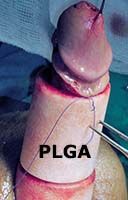 Autologous means transferred from your own body.
You are the donor and the recipient.
Autologous is something that occurs naturally in your body and NOT something that comes from someone else.
Homologous means the scaffold comes from someone else, such as an allograft.
Because it is not yours, it must be specially processed to minimize chance it will cause a reaction or outright rejection by your body.
An allograft is homologous.
MegaDerm is one brand of allograft.
Heterologous means the scaffold is from a non-human source but still safe to use, such as hyaluronic acid (HA) or PLGA.
Hyaluronic Acid
Hyaluronic acid is a natural, slippery, carbohydrate gel in our eyes and joints that also holds our cells together.
When used for penis enlargement, the HA is obtained from non-human sources:
extracted from rooster combs (animal source, animal-derived) or
produced by bacteria in a lab.
Hypersensitivity reactions are rare for both animal-derived or bacteria-derived hyaluronic acid.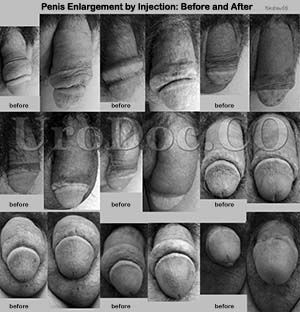 HA is also called Hyaluran, Hyaluronan, and Hylan. Some brand names include Hylaform, Perlane and Restylane.
All HA is not equal.
In recent years, biotech companies have created HA varieties particularly effective for use in penis enlargement.
Dr Kim uses this special variety for penis enlargement, not the variety used to minimize face wrinkles or the variety for breast enlargement.
PLGA: Polylactic-co-glycolic Acid
During the past decade, one of the best scaffolds used for girth enhancement during tissue engineering, was autologous tissue engineering using PLGA.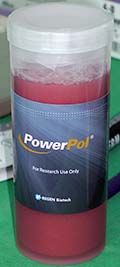 PLGA scaffolds were used for many years and an injectable form (micronized) was introduced in 2013.
PLGA stands for polylactic-co-glycolic acid.
It is different than polylactic acid products such as New Fill or Sculptra (PLLA aka Poly-L-lactic acid aka PLA).
Those products are to be used to counteract deep depressions of the face.
Although it could be argued that PLGA is heterologous, the procedure is categorized as autologous because serum from a small amount (100 cc) of the patient's blood was used to soak the PLGA which was later implanted into the penis.
About 30-60 days after the surgery, the body would soften, absorb, biodegrade and replace the PLGA with the person's own tissue. In four months the PLGA was completely replaced by the person's own new tissue.

Injected PLGA worked faster and better but was heterologous. No blood is used.
Radboud University Nijmegen Medical Center's Department of Periodontology and Biomaterials and Rice University's Department of Bioengineering report:
After 12 weeks the PLGA is totally degraded and a highly porous but strong scaffold remains.
Homologous Allografts
Girth enhancement with surgically placed allografts can be done only once.
Girth enhancement with MegaFill or HA can be done as many times as you want.
The gains are cumulative
Lengthening can be done only once
If done properly, the gains are permanent but modest. See our article: Penile Lengthening Surgery.
International medical tourism has become popular and common for 3-4 great reasons:
Exceptionally good surgical results and/or
Excellent value for money and/or
Unique procedures and/or medical materials or
Some or all of the above.

Convenience and close proximity to a surgeon have been trumped by superior quality and lower cost obtained by traveling farther.
Dr Kim performs the full range of safe penile augmentation procedures. But he is now convinced injection trumps surgery and MegaFill trumps PLGA and HA for penile girth enhancement.
MegaFill by injection is the starting point of Dr Kim during any conversation about penis enlargement. A conclusion will only be made during the face-to-face physical exam and consultation with Dr Kim in Seoul. There, doctor and patient will reach an agreement on:
the best procedure(s);
number of procedures;
which enhancement material(s) should be used; and
how much enhancement material(s) to use.
However, Dr Kim is convinced:
MegaFill for phalloplasty by injection is the best penis enlargement option available — superior to HA & PLGA & Lipen 10 as well as open surgery!
Actual total cost varies for each person according to:
material used (MegaFill, HA, fat, MegaDerm, PLGA);
amount of material used (this depends on your penis length and size as well as your target size increase;
number of procedures you get; and
whether you have chosen any options.
Dr Kim offers complimentary (free) "meet and greet" pickup from the airport and transfer to your accommodations in Seoul. This is available upon request, if you provide us with complete arrival flight details and your place of accommodation in Seoul.
Airport pickup is only available from Incheon, not Gimpo airport, and only for patients coming for treatment costing US$3000 or more. The public transport Metro from Gimpo costs only about US$1.20.
NOT INCLUDED in any package price are:
hospital stay (all penis enlargement procedures offered are outpatient treatments);
intravenous, spinal epidural or general anesthesia (surgery is normally performed using local anesthesia)
food and drinks
accommodations
tours
entertainment
transport around Seoul or anywhere else in Korea.
We recommend you stay for the medically advisable number of days, if at all possible.
If you want a long-distance evaluation and price quotation that is likely to remain the same when you go to Seoul, send us by email your:
basic medical history (such as age, weight, height, race, nationality, etc)
penis girth and length measurements both soft and hard, and
some good quality photos from front and side showing your your penis both hard and soft.
Or you can make an appointment to consult with Dr Kim in Seoul and then decide what procedures you want when you get there.
Costs will be within the ranges stated on our price list.
PLGA Post-op Physiotherapy
Many men have contacted us about the post-operative physiotherapy for injected PLGA for penis enlargement.
What is the post-op physiotherapy for enhancement by PLGA injection?
Dr Kim:
They just need stretching of penis with fingers grasping on the glans.
What is the post-op schedule? For example, when can men start to have sex again? How long must a person abstain from sex?
Same as for scaffold PLGA sheets or less — 4-6 weeks after surgery. It depends on whether pain arises during sexual intercourse. If it exists, wait more weeks.