FtM Top Surgery Mastectomy
FtM Top Surgery
Mastectomy
Female to Male GRS

FtM mastectomy top surgery requires psychiatric approval as per WPATH Standards of Care.
Mastectomy categories:
Small, Medium or larger in size — requires 2.5-3 hours of surgery using "extended keyhole" procedure: US$3600
Skin excision procedure — requires 3-4 hours of surgery: US$4200.
Skin excision and relocation of nipple and Areola — requires more than four hours of surgery: US$4800

Nipple and Areola reduction procedure is included in these prices.
Hospital stay may be one or two days.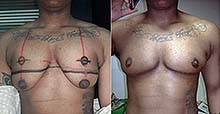 The suction drain will be removed within 5-7 days.
Skin suture removal is usually not needed, because Dr Kim uses absorbable suture material.
Costs quotations are issued on a case-by-case basis and can fall between the three major categories listed above.
The final result takes time to be apparent. Residual swelling around the lower portion of breast below the nipple is normal.
Dr Kim explains:
The residual swelling underneath of the peri-areolar area usually takes time before flattening, because the swelling is caused by hardening of residual fatty tissues.

If I removed all of the fatty tissue during surgery, the nipple area would shrink.

The swelling takes more than three months to disappear.