Premature Ejaculation
Treatment
Premature Ejaculation Cures:
Pills?
Surgery?
Injections!
Dr Kim considers injection therapy the best solution for premature ejaculation — better than dangerous drugs and better than surgery which is both risky and temporary.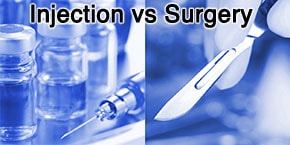 Before making any decision and before any premature ejaculation treatment, Dr Kim first checks sensitivity of the glans and compares it with the patient's fingertip sensation — biothesiometry.
Testing incurs no additional cost for the patient. It enables the doctor to decide if the treatment will be effective or not.
Biothesiometry grade categories are:
When the biothesiometric grade is very high (over 8) and the patient has a premature ejaculation problem, then the time between penetration and ejaculation must be established.
One patient complained:
I ejaculate prematurely after only 30 minutes!
Another patient complained ejaculation was premature because it happened after …
… only two hours.
"Premature" is a very relative and subjective term whether used in premature climax or premature ejaculation. The "rapid" part of rapid ejaculation and the "early" in early ejaculation are also very subjective.
First step is for Dr Kim to discover the patients definition of "premature" or "rapid" or "early".
Simply put, premature means ejaculating sooner than the patient or his partner wants whether before sexual intercourse or after.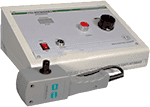 If the biothesiometric grade is very high and ejaculation occurs within two minutes of penetration, the person is:
The choice is between:
costly and

dangerous

drugs (up to US$11,000 over a two-year period?);

risky

dorsal neurectomy surgery that gives a temporary result but can cause permanent erectile dysfunction;

highly precise injection therapy

by Dr Kim that has the added benefit of glans enlargement, costs a fraction of the price of risky drugs and can successfully treat premature ejaculation long term.
Glans Enhancement Injection Therapy Using Superfine Filler
For people who are not East Asian, Dr Kim recommends correction of premature ejaculation using a special type of glans enhancement by injection, not dorsal neurectomy.
Instead of surgery, Dr Kim recommends strategic injections of a superfine hyaluronic acid (HA) filler in the glans to to reduce erotic sensation. Dr Kim explains:
It is like wearing multiple layers of condoms.
Koreans need 3-6 ml of filler but the amount varies in patients of other races.
This form of HA treatment:
is safe
works well
increases glans size
avoids dangerous drugs
avoids risky surgery, and
avoids erectile dysfunction (ED).
Correction of premature ejaculation using glans enhancement by injection costs only US$2400.
If you live very far from South Korea, a round-trip flight would increase total expense about US$930. But that would still cost significantly less than drug treatment and would be safer than both drugs or neurectomy.
Patients often want multiple and concurrent solutions such as glans enlargement and treatment of premature ejaculation. This procedure achieves both goals.
Dr Kim explains:
For PE treatment, not for glans enhancement, the efficacy of HA treatment on the glans area is near permanent.

And for glans enhancement, HA efficacy lasts much longer than for penile body enhancement.

The reason for the phenomenon is the penile layer into which the HA is injected.

In the glans region, the layer of HA placement is very superficial — the sub-epithelial layer, just beneath the epithelium, where blood supply comes from the bed of the epithelial layer by perfusion and arises over a very wide area.

That is to say, the layer of HA placement on the glans has no blood vessel structure.

On the contrary, the layer of HA placement in the penile body has a very abundant blood supply.

The enzyme which degrades HA bonds named hyaluronildase (H-lase) is very abundant within blood flows, but very rare in the epithelial layer.

In my experience during patient follow up of glans enhancement cases, I can witness remaining HA more than 10 years after HA injection.
Why
NOT

Selective Serotonin Reuptake Inhibitors?

There are many psychotropic medications from which to choose, such as selective serotonin reuptake inhibitors (SSRIs).

But those premature ejaculation pills are dangerous and expensive — up to US$15 per tablet from a legitimate "brick-and-mortar" pharmacy in your city. At one tablet per day, it could add up to about US$5,475 per year.

SSRIs are a tightly controlled prescription medication so you will be paying for more than the drugs.

You will be required to periodically see a physician to get the prescription renewed.

In addition to the high cost of the drugs, trying to chemically treat premature ejaculation will also incur other biannual costs (bimonthly at first) such as:
testing
doctor fees
transport
parking
time getting to the doctor's office, waiting in his reception area, talking with the physician, getting the prescription, then getting to a pharmacy to purchase the drugs.
SSRIs are usually considered primarily drugs for "mood management" and personality disorders, not premature ejaculation.
These powerful drugs will change your personality.
The pharmaceutical industry spins "change" to mean "improve" you by making you more "sociable". Does your personality need "improvement"? Do you need an emotional damper often used in conjunction with cognitive behavioral therapy?
Big Pharma (over $259 billion in USA prescription drug sales in 2014) says SSRIs are technically not "addictive" … but you suffer withdrawal symptoms if you stop taking them suddenly instead of being weaned off.
Regardless of how you kick the SSRI habit, it may become necessary to take the drugs long-term to prevent you developing depression because you stopped them — regardless that you started taking them to deal with premature ejaculation, not depression. You may come to "rely" on the drug longterm — and Big Pharma — at great cost.
SSRIs

: Intolerable Adverse Symptoms

Although SSRIs are "USA FDA approved", victims of SSRIs have launched hundreds of product liability and personal injury lawsuits against drug companies. More than a billion dollars in compensation has already been paid to victims.

SSRIs used to treat premature ejaculation have many common side effects and cause complications, such as: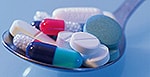 decreased quality of sexual orgasms
decreased ability to have an orgasm
decreased sex drive
arrhythmia
anorexia
hyponatremia
seizures
male erectile dysfunction
muscle twitches, shivers or tremors
nausea
hallucinations and psychoses
mood swings
depression
unpredictable and involuntary weight change
reduced blood clotting ability
loss of appetite
excessive sweating
breathing difficulty
fevers
fainting
constipation
diarrhea
bloody stools
urinary retention
indigestion
vomiting blood
high blood pressure
blurred vision
irritability
aggressiveness
anxiety and panic attacks
confusion
dizziness
apathy
drowsiness
fatigue
lethargy
hyperactivity
loss of concentration
insomnia
severe skin blistering and pealing
swelling
rashes
flu-like symptoms, such as sneezing, soar throat, nasal drip
withdrawal symptoms (discontinuation effects)
self-harm
suicide
death.
SSRIs

: Polypharmacy & Problematic Drug Interaction

SSRIs can be dangerous to use with more than 216 other drugs, including:
St. John's wort (therapeutic dose elevated to toxicity)
MAO inhibitors and other anticoagulants such as aspirin
certain popular pain killers such as non-steroidal anti-inflammatory drugs like ibuprofen
some antibiotics
other antidepressants
drugs for treatment of psychosis and schizophrenia.
SSRIs are unsuitable for anyone getting electroconvulsive therapy or with health problems such as:
epilepsy
bipolar disorder
kidney disease
liver disorders
heart disorders
glaucoma
diabetes 1 or 2
asthma being treated with theophylline
migraines being treated with triptans.
Between 55 to 80% of patients fail to experience any reduction in premature ejaculation from taking powerful SSRI drugs. In other words, the antidepressant drug's "side-effect" of delaying ejaculation often doesn't work.
SSRIs do not have immediate effect. It can take up to a month for the effect to appear — if it is effective at all.
SSRIs are often a wishful-thinking, shotgun-style approach to solving premature ejaculation instead of a laser-focused approach of physically reducing nerve stimulation in an unusually sensitive glans.
Surgery: Dorsal Neurectomy
Dr Kim has performed dorsal neurectomy to treat about 1,000 cases of Korean men suffering from premature ejaculation He can do it in about 10 minutes.
But that procedure is only advisable for local Koreans and other East Asians.
One reason is because it's a temporary solution. Usually, after 2-3 years, the nerves regenerate. Local patients can easily come back to have the procedure repeated but that is not very convenient for patients from other countries.
Another important argument against a surgical solution is risk of serious complications like permanent erectile dysfunction.
Tremendous Experience Performing Neurectomies but …
Risk is directly related to penis size and there is no research on Caucasians or people of color getting neurectomies. Dr Kim explains:
Injection is better than neurectomy for treatment of premature ejaculation. At least there is no risk of ED and the glans size is slightly increased.

I prefer to recommend injections for Caucasians and people of color instead of dorsal neurectomy — regardless that the complication rate for dorsal neurectomy is very low in East Asians, maybe 1%. Risk of erectile dysfunction will increase for patients who are Caucasians and for people of color.

Although I don't particularly like this glans enhancement procedure, it would be better than a dorsal neurectomy for Caucasians and people of color.

We have studies on the risk of dorsal neurectomy performed on East Asian people but there are no studies of other races.

That lack of hard data about risk to patients of various other races means he cannot evaluate the suitability and cannot give them any warranty.

We (Korean doctors) have more than 20 years experience with dorsal neurectomy. More than 1,000 Korean doctors have each done more than 100 dorsal neurectomy procedures.

Starting first in Russia and Eastern Europe, doctors there have only five years of experience with neurectomies for Caucasian patients and a specialist in that part of the world may have performed as few as 20 cases.

We don't know what will happen. I don't recommend neurectomy. I have no experience with other races.

We need a pilot study (of dorsal neurectomy in Caucasian patients) but there is none.