Phalloplasty by Injection:
Micronized Allogenic Dermal Tissue
MegaFill Phalloplasty: Doctor's Top Recommendation
MegaFill is an injectable product created from donated human tissue, comparable with Cymetra Micronized AlloDerm Tissue.

This penis enlargement method is safe and efficient.
Tissue engineering and the biologic scaffold provided by the MegaFill plus the body's natural ability to regenerate is used to orient and direct new tissue growth.
The MegaFill scaffold generates processes of neo-angiogenesis, fibroblastic hyperplasia, and collagen matrix accumulation with new connective tissue development.
It is in our "permanent" category of fillers. We also refer to durability of filler material as "final cumulative gain".
Dr Kim explains:

Biologic-origin scaffolds can give space and time for collagen regeneration inside of the human body. The structure is already made.

But the particle size of MegaFill-like substances is very small, 700-1,200 micrometers, so it can pass through the lumen of a needle. Eventually, after disappearance of it's water, the porosity drops to zero.
MegaFill is ONLY available legally in South Korea where it is KFDA (Ministry of Food and Drug Safety) approved.
Do NOT confuse MegaFill from L&C Bio of Korea with multiple other products around the world with the same name but for very different purposes.
MegaFill:
is NOT a drug;
CANNOT evaporate ("disappear");
CANNOT be absorbed ("dissolve");
CANNOT collapse completely ("dematerialize");
CANNOT be completely compressed ("dissipate");
CANNOT migrate through the circulatory system;
CANNOT cause Hepatotoxicity;
IS a material officially allowed by both the USFDA & KFDA;
this name brand product is NOT available in other countries; and
CANNOT trigger an immune system rejection.
Some or all of the MegaFill (1-100%) can be moved by a reckless patient.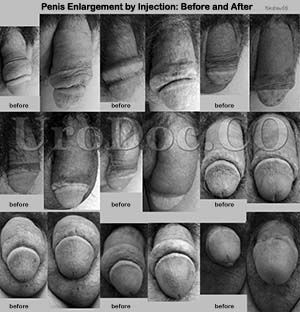 It is impossible for an allograft to be rejected because the tissue always goes through at least one of three processes that completely remove the ability of the human body to recognize it as foreign tissue:
cryopreservation;
chemical treatment; and/or
irradiation.
MegaFill allograft goes through two of those three processes — unlike living organs.
Years ago, Dr Kim considered any injectable form of this material inadvisable. He declined to use and did not offer it — despite the glowing reports from the manufacturer.
Now, Dr Kim considers …MegaFill for phalloplasty by injection is the best penis enlargement option available — superior to HA & PLGA!
There are multiple other competitors with injectable materials.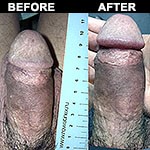 Not all of those use recycled human tissue from organ donor programs.
Manufacturer L&C Bio claims MegaFill is rated as excellently biocompatible with a half dozen advantages over comparable products:
Micronized particles to prevent migration like liquid fillers such as silicone and the oil used in traditional Thai phalloplasty.
Reduced particle size to 10% of comparable products is intended to result in greater evenness and reduced nodule sizes after injection, enabling more detailed work by the surgeon and achieving better aesthetics.
E-beam sterilization still kills all bacteria but avoids the chemical residue of sterilization by EO gas and the collagen destruction of gamma ray sterilization. (That's an important factor because collagen structure supports the re-growth of tissue.)
No chemical residues that cause inflammation or necrosis.
30% more dermis powder per injectable material (350 mg/10 cc compared to as little as 270 mg/10 cc of competing products).
Disposable cannula. L&C fails to explain how that is superior to non-disposable cannula or whether the delivery systems of their competitors use disposable or reusable cannula. Cymetra is supplied in a syringe which LifeCell probably expects to be destroyed after use.
MegaFill is sold in a 7 ml dose by the manufacturer regardless of how much is going to be used by the doctor. For that reason, 22 to 28 ml total MegaFill would cost the same. Leftover MegaFill cannot be stored.
next: Preserving the Great Result