South Korea Visas
Requirements
Who Needs a Visa?
Bearers of passports issued by these countries MUST have a visa to come to South Korea to get surgery by Dr Kim: Algeria, Argentina, Azerbaijan, Bangladesh, Belarus, Belize, Benin, Cambodia, Cyprus, DPR China, Ecuador, Egypt, India, Iran, Jordan, Kazakhstan, Laos, Pakistan, Palestine, Paraguay, Philippines, Turkmenistan, Ukraine, Uzbekistan, Uruguay and Vietnam.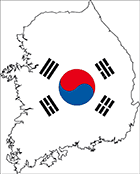 Some other nationalities must also get a visa to enter the Republic of Korea.
We are UNABLE to accept patients from Afghanistan, Ethiopia, Somalia, Sierra Leon, East Sahara and some additional countries.
Many other nationalities can enter Seoul with only their passport if the document is valid for at least six more months from time of arrival.
Unlike patients from China, patients from Hong Kong, Macau and Taiwan are NOT required to have a visa.
Patients who are required to have a visa to enter South Korea to see Dr Kim can enter as a tourist. That is the easiest and simplest way to visit.

All tourists arriving with a visa (or without a visa if exempt), are usually given permission to stay 30 days with the option to extend your stay up to 90 days if needed. No patients need to stay in Korea longer than one month.
You can visit as a tourist to get treatments that do not require a stay longer than about 10 days total.
Visa applications usually take 7-10 working days and sometimes up to two weeks to process.
You will need to submit a:
completed visa application form
(high quality scan) copy of your passport
portrait-sized photo (4 x 3 cm)
letter of verification from Dr Kim to show the purpose of your visit
a copy of our medical tourist agency's registration, and a
financial statement showing you have enough money for the surgery and your stay in South Korea.
Cost is US$50 for a C-3-3 medical tourist visa.
The Korean embassy will probably NOT accept your local currency
A C-3-3 multiple-reentry medical tourist visa valid for one year costs US$120.
More official information is available at "Visit Korea". A visa application form can be downloaded from Korea's Ministry of Foreign Affairs.