Non-Binary Person Surgery
Enby Bottom Surgery and Top Surgery Safe Space
Inquiries About Surgeries Welcome
Dr Kim recognizes body image standards are continually evolving worldwide. He is open to discussion and willing to provide a free, case-by-case evaluation of trans and gender non-binary (TGNB) patients as well as persons with body dysmorphic disorder (BDD). Questions about surgery are welcome from Intersex, Non-Binary, Gender Non-conforming, Genderless, Gender-Free, Non-Gendered, Ungendered, Genderqueer, Dual Gender persons as well as anyone experiencing any type of Gender Incongruence.
I have a policy of respecting a patient's right to self-determination.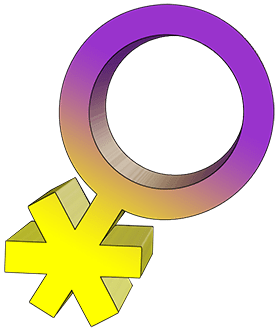 OVERVIEW
Every person is unique, including every non-binary person.
Dr Kim strives to provide extremely high quality medical care to all persons requiring it, including surgery which:
is designed to solve clinically significant distress or impairment caused by gender dysphoria, gender incongruence, BDD or
has the goal to confirm, affirm, reassign gender, including MtF, FtM, Non-binary persons.
We start from a neutral position. We work together with patients to discover what is in the best interests of each person and achieves suitable, ethical body modification goals.
Dr Kim considers non-binary surgery as an elective request for body modification since the person:
is not transitioning to male; and
often not undergoing hormone replacement therapy (HRT) although possibly undergoing hormone adjustment therapy.
We aim to be appropriately respectful to all out patients. We try to provide a safe place, good service and an inclusive environment for persons of all ages, cultures, languages, belief-systems and perspectives.
Surgery is very serious matter, never routine. However, be aware that Dr Kim's style and goal is to create a sensitive, professional but lighthearted atmosphere in the clinic. He is fluent in English but it is only his second or third language. Have reasonable expectations and flexibility regarding his best effort to communicate in English about complex medical, psychological and social issues. Don't be surprised if one of his jokes falls flat. If you are easily triggered, Dr Kim is probably not the best surgeon for you.
We hope and expect our patients will be reasonably understanding, flexible, and tolerant as we explore and pioneer the road ahead together.
Surgical correction is the most extreme solution for gender dysphoria.
Urogenital reconstruction can include: vaginoplasty, penectomy, orchiectomy, scrotectomy, labiaplasty, mastectomy, hysterectomy, phalloplasty, scrotoplasty, vaginectomy and perhaps some non-standard gender affirmation surgical procedures.
Genital reconstruction is available only to legal adults.
EVIDENCE-BASED EVALUATIONS
International medical tourism and irreversible life-changing surgery are not fast food.
The surgeon insists on deeply studying the evidence to ensure performing surgery would be helping, not harming. He is uncompromising and obsessed with patient safety and good quality of life for patients.
Dr Kim does "virtual" evidence-based evaluations. His "long-distance" aka "remote" aka "virtual" evaluation is based on documented electronic aka digital evidence which is later re-confirmed with a real-world, private, pre-operative, face-to-face discussion, consultation, examination and testing in his clinic in Seoul.
He cannot determine what is best for a person by a Zoom or Skype or LINE call or anything similar.
The policy explained above is the surgeon's current interpretation of ethical telemedicine and the use of electronic information and telecommunication technology to provide accessible, confidential, cost-effective, elite medical care with no compromise of patient safety and well-being.
We almost always need relevant photos of a potential patient for an effective and accurate evaluation.
Dr Kim says:
I need photos to visually observe your body type and body weight. Overweight is no problem. Underweight can make some surgeries impossible.

I need to see the operation field on your body as shown on our web site photos. I need to see any scars from previous surgery. For some procedures, I don't need genital photos. I need photos similar to the web site. A photo of the person's trunk — abdomen and pelvis.

Please send a copy of your passport. Send copies of all psychiatric evaluations that are available. Send any documents that show official gender change.

I need your medical history.
You can download, complete and return this simple, plain text Medical History form that is compressed in ZIP format.
Evidence for a virtual telemedicine evaluation can be sent to us as email attachments.
For greater confidentiality, we recommend digital evidence be sent to by means of cloud file transfers. For ultimate confidentiality, we recommend encrypting the files when compressing the files before transmission.
For cloud file transfers, please put all photos, document scans, medical imaging, medical history or anything else, all together in one folder.
Compress the folder into a single file using an app such as WinRAR, WinZip or the free program 7-Zip (use only ZIP archive format with 7-zip).
If you use encryption, send the password to us by email.
Send the compressed file folder to us using SendSpace.com with notification to:

PSYCHIATRIC AUTHORIZATION
For all surgery, we like to receive digital copies of a 'Medical Necessity Statement' from each of the mental health specialists advising a prospective patient.
Psychiatric evaluations are a standard component in the process of getting gender affirming surgery as specified by World Professional Association for Transgender Health Standards of Care (WPATH SOC) which are designed to protect patients.
Expert third-party confirmation of a person's decision to get surgery is advisable and in the best interests of the patient.
WPATH SOC recommend that a patient have letters of preparedness from two different, unassociated, independent, mental health professionals. And it recommends the person complete at least 12 consecutive months of hormone therapy.
Dr Kim says:
If you have no psychiatric evaluation, no big problem

Because I have a policy of respecting a patient's right to self-determination.
However, he does need to be personally convinced that the patient clearly understands the irreversible consequences of the decision to get surgery and that the person has no apparent mental health issues.
It is not always strictly necessary to have psychiatric approval for non-binary surgery (which Dr Kim does not consider gender reassignment) but is very good idea and very advisable.
NONBINARY TOP SURGERY
For all top surgery, we need photos that that show the chest area from left, right and center. No need to see above neck or below the abdomen. There are many ways to do a mastectomy and the best choice depends on the size of the breasts. We need to know the body profile.
An "extended keyhole" mastectomy for small to medium-sized breasts costs US$3600. A skin excision mastectomy for medium to large-size breasts costs US$4200. Skin excision and relocation of nipple and areola for very large breasts takes about a half day of surgery and costs US$6000.
NONBINARY BOTTOM SURGERY
For bottom surgery, Dr Kim requests genitalia photos, if at all possible.
One example of non-binary bottom surgery:
Trans-vaginal hysterectomy (TVH) (with or without) bilateral salpingo-oophorectomy + vaginectomy + vaginal opening closure + relocation of labia + clitoral elongation without male-type urethral reconstructions for voiding in sitting position.
A variation could be metoidioplasty with male-type urethral reconstructions without testicular prosthesis implants. Either of these would cost US$5600 and require one night stay in the clinic. Epidural for anesthesia is standard and included in the price. General anesthesia is available at an additional cost of US$2000.
Another example of non-binary bottom surgery is TVH plus salpingectomy preserving ovaries. It is advisable to remove the Salphynx (fallopian tubes) because it is an organ with rising incidence of ovarian cancer.
Mutual understanding and agreement regarding the details of the aesthetics need to be worked out face-to-face during the private consultation in the clinic. Dr Kim is openminded. He wants to clearly understand the surgical result a patient seeks.
Skin grafts are painful and result in significant scarring. It is rarely used by Dr Kim in the many types of tissue engineering and re-engineering that he performs.
PRE-OP TESTING & PREP
Pre-op testing before non-binary surgery (as well as all other open and laparoscopic surgery) is to officially document a patient is strong, healthy and it is safe for the person to have surgery. The cost of testing is NEVER included in the surgical fee.
The tests need to be done at the clinic 24 hours before surgery and cost US$200.
The seven standard pre-operative tests include:
Internist Exam [internal medicine specialist, ECG, and ultrasound heart exam]
Blood Analysis (including for HIV, all types of hepatitis and any other infectious blood diseases)
Urine Analysis (urine test, urinalysis)
Blood Group (blood typing)
PT (Prothrombin Time | Clotting Time)
PTT (Partial Thromboplastin Time)
Chest X-Ray
Adult blood tests need to include HIV, Hepatitis B & Hepatitis C. Those infections do not disqualify a patient from surgery in Korea but there are strict protocols about where surgery can be performed for patients requiring special care for infectious diseases. For some cases, we may be legally required by infectious disease protocols to have the surgery at the National Medical Center. That will increase some costs. It may also increase mandatory recovery time in hospital (also increasing cost).
Dr Kim says:
Patients with HIV, HBV and Syphillis need to be treated with medications for more than two week before surgery, to reduce the infectiousness of the viruses.

The purpose of pre-operative screening tests is to help people, not to create hurdles in front of them.

If the infections are controllable, the disease itself is not a matter of concern.
Everything else medical is included in the published prices.
On the day of the surgery, a patient will need to stay in the clinic until at least 7 pm, perhaps overnight, before returning to the person's hotel or place of stay.
Patients must begin fasting from water and food starting from midnight the night before surgery. A patient can eat light food after surgery.
The primary way to prepare well for surgery and increase the probablility of a good, swift and uneventful recovery and healing is:
firmly establish good health and a healthy lifestyle;
practice good nutrition and excellent hydration;
have normal BMI;
avoid tobacco use before and after surgery; and
recover in Seoul for at least the recommended period of time.
A patient who is not ideally prepared for surgical recovery should consider staying longer under the beneficial direct supervision and aftercare of Dr Kim.
Some patients may find it desirable to prepare the donor tissue or surgical area using laser hair removal to achieve hairless genitalia.
PAYMENT
Most patients simply bring cash. Some use travelers checks. Depending on the queue of customers, it takes about one hour to cash travelers checks at Korea Exchange Bank (KEB) a few floors below the clinic in the same building.
We encourage cash payments to enable patients to avoid very excessive government tax on private clinic credit card and wire transfer transactions.