SRS & Transvaginal Hysterectomy
Uterus, Ovaries, Fallopian Tubes Removal
TVH-BSO FtM Surgery
The advantages of a transvaginal hysterectomy (TVH) with simultaneous bilateral salpingo-oopherectomy (BSO) are:
no abdominal scarring
minimal operating time, which means
less time under anesthesia (if genereal anesthesia is used) and
less time in the operating room with open wounds.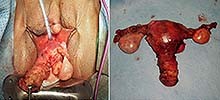 Removal of the uterus by means of a trans-vaginal hysterectomy and simultaneous removal of fallopian tubes and ovaries (sometimes called TVHBSO) costs US$3600 for cash payment.
TVH-BSO requires 2-3 hours of surgery and 1-2 nights in hospital.
Dr Kim advises a minimum of 1-2 weeks of post-operative care in Seoul.
He recommends the patient remains in his care for two weeks.
He encourages his patients to remain his responsibility and under his care in Seoul as long as possible.
This procedure is used for natal female non-trans women in cases of cancer in the area of the cervix or benign diseases.
A highly-experienced, highly educated, well-trained surgeon such as Dr Kim is essential to absolutely minimize risk of :
bladder injury
excessive bleeding.
Note
Dr Kim reserves the right to require general anesthesia be used when his medical opinion is that it would be in the best interests of the patient.
Related Individual Procedures
Dr Kim offers all surgical procedures related to and associated with FtM phalloplasty as well as alternative solutions, including:
Inflatable Penile Prosthesis Implantation
Malleable Penile Prosthesis Implantation
FtM Metoidioplasty
Laparoscopic Hysterectomy
Oophorectomy
Vaginectomy
Glansoplasty
Scrotoplasty
Mastectomy