Hotels, Serviced & Furnished Apartments, Guesthouses
Treatment package prices quoted include everything relevant to the medical nature of the visit to Seoul but nothing else.
Not included in the package price for any procedure:
accommodations;
transport within Seoul;
return to the airport when departing;
food, drinks, entertainment;
hospital stay (needed only for open surgery).
When you have a mutually confirmed 11 a.m. appointment with Dr. Kim and have acquired your plane tickets, notify us.
Receiving your arrival flight details prompts us to then send you all the contact information you will need, including GPS coordinates of the medical facility, address, map, Google Map, phone numbers, and photos of the clinic.
You can use that information to see the more than 400 hotels and more than 600 B&B (bed & breakfast) accommodations in Seoul and their relation to the location of Dr Kim's clinic.
It may be faster and easier use the list of places to stay we have compiled. It is only a partial list, not our recommendation.
One of the easiest ways to see available places to stay is to input the GPS coordinates of the medical facility into Bing.com Maps. Coordinates are included in the information pack we send you when we receive your arrival flight details — or notification that you will find your own way from the airport because it is easy to do.
When the map comes up:

click on "Directions" found in the top left corner;
type "hotel" into the empty destination field;
click on "Go";
five hotel options will be presented;
the blue circle with white number in front of the hotel name has a twin showing the hotel's location on the map;
the location of the medical facility will be a

white letter "B" in a red square

with a black outline;

select a hotel listed or click "Next" at the bottom of the hotel options to get more than 50 other choices.
if you select a hotel but you want to see more, back-click to the previous page and try another.
Google Maps works similar to Bing Maps but is more difficult and less friendly.
Yahoo maps are the worst.
There are several hotels and serviced apartment within walking distance of the medical facility.
Their prices cover a wide range to fit any preference.
Dozens of other hotels are a short, inexpensive taxi (US$10), subway (US$1) or bus ride away.
Stay anywhere you prefer.
But the apparent distance of a hotel from the medical facility can be misleading, such as Ramada Hotel & Suites Seoul Namdaemun. Those are at least a 33-minute taxi ride from Dr Kim.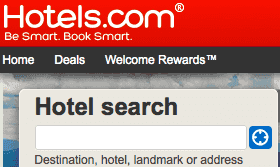 Some of the popular hotels that are physically closest to the medical facility are usually fully-booked far in advance. Plan ahead.
Agoda or Hotels.com or Expedia or Booking.com all represent many nice hotels near the medical facility, including doctor-recommended Samjung Hotel. (Their food is expensive so consider eating elsewhere.)
The same hotel for the same period of time can greatly vary in price from Agoda to Expedia to Hotels.Com. Check out several big web sites selling rooms.
Some of the better hotel booking sites allow you to input the GPS coordinates of the clinic into their destination field for searching.
A few of the places patients have stayed include (more info below):
Seoul Riviera Hotel
Hilton
Richmond (no safety deposit boxes)
IMI Hotel
Hill House Hotel
Samjung Hotel (popular so often full)
Kimchee Gangnam Guesthouse (GET A PRIVATE ROOM!)
All mentioned hotels are suggestions for your consideration, not recommendations. Do your own research and due diligence.
next Hotels-to-Clinic Distances